Adding a patio to your backyard is a great way to enhance your outdoor space. However, without proper cover, the concrete pad can feel less inviting. There are various options available to improve your outdoor area, making it more comfortable and enjoyable throughout the year. 
Here are some cool ideas that you might want to try out:
Cabana-Style
The cabana-style patio cover features a solid roof structure made of wood beams and covered with beadboard or similar paneling. 
You can create a beachy vibe with teak wood or match it to your home's style with brick or stone columns and white-painted paneling. This design offers a straightforward appearance while providing protection from the elements.
It's generally cost-effective, but expenses can rise if you opt for additional features. You can even enhance it with built-in lighting, fans, skylights, spacious fireplaces, and screens, transforming it into a complete outdoor living space suitable for every season.
Fabric Cover
Fabric patio covers offer versatility through options like umbrellas, retractable shades, awnings, or removable sails. These covers are ideal for those who seek extra shade during hot summer months without significant expenses. 
For this one, we recommend you opt for sturdy materials that are easy to clean, ensuring a long-lasting solution for several seasons of use.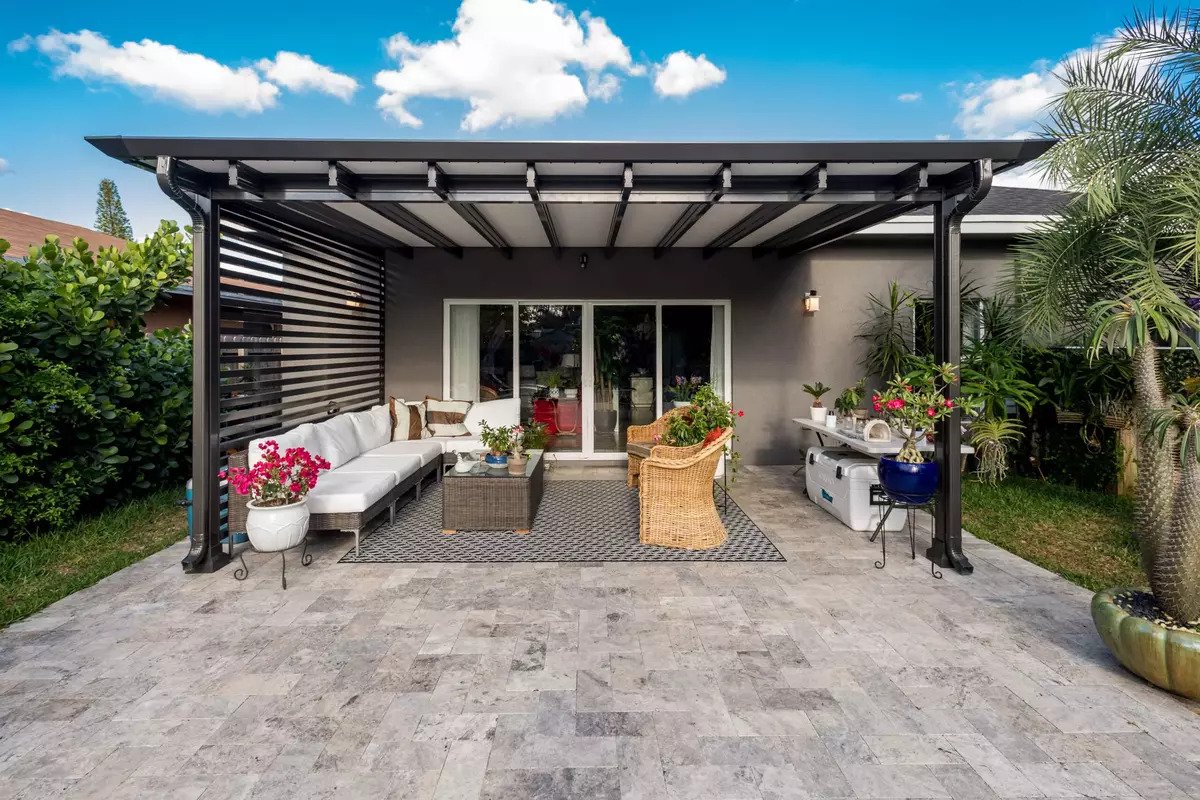 Lean-to Cover
The lean-to patio cover is defined more by its attachment to your home than its traditional appearance. One side is supported by columns while the other is connected directly to your house, giving it a front porch-like look. 
Although installation might require more effort, it offers material flexibility to suit various budgets.
Pergola
Known for its adaptability, pergolas can be crafted from various materials, making them versatile and suitable for different projects. One key advantage is their self-supporting nature, eliminating the need for attachment to your home. 
Additionally, pergolas offer a platform for vines and plants to grow, contributing to a lush ambiance. For added charm, stringing lights across the supports can create a cozy atmosphere.
However, the pergola's openness is a common drawback, as it doesn't shield from the elements. To address this, adding fabric or thatched panels can provide more shade. Alternatively, attaching a plexi roof offers protection while still allowing sunlight. 
With its wide-ranging appeal, a pergola is often a fitting choice for various aesthetics and preferences.
Timber-Framed
The timber-framed roof stands akin to the cabana-style, recognized by its robust appearance often found in ski lodges and homes in colder climates with heavy snowfall. 
While commonly associated with cold weather, this structural design easily transitions to complement diverse home types, from modern farmhouses to classic craftsman bungalows.
Central to this style are the timber trusses, available in different configurations and sizes but with a potentially higher cost. Similar to the cabana-style, the timber-framed roof is well-suited for year-round utilization and offers a versatile outdoor environment.